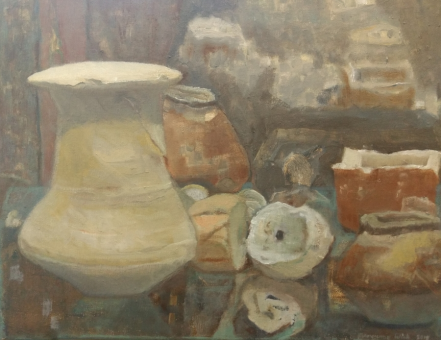 'Naturaleza muerta con vaso de ceramica gris' , 2019
2020
'PAINTING STILL LIFE FROM REAL LIFE' (Channelling Margaret Preston) with Maryanne Wick, Weekend Workshop in the Byron Hinterland, 22nd & 23rd AUGUST, 2020. Go to https://www.artworkshopsaustralia.com.au/ for more informaiton. To view a previous workshop, go to - https://art-e-tete.com/tag/maryanne-wick
'THE SUMMER EXHIBITION 2019', Lorraine Pilgrim Gallery, Southport, QLD. To 29 February 2020
FINALIST in the Korea-Australia Arts Foundation Art Prize (KAAF) for 'THE BOWER'., Korean Cultural Centre, SYDNEY. To 24 Jan, 2020.
'PAINTING WITH CONFIDENCE' with Maryanne Wick, Summer School, National Art School, SYDNEY. To Jan 17, 2020. (closed).
2019
'THE IBERIANS', Solo Exhibition, Museo Municipal de Valdepeñas, Valdepeñas (Ciudad Real), SPAIN. (Closed). Under 'Current exhibition' or Click here for more information.
'EXPOSICIÒN DE MARYANNE WICK', Solo Exhibition, Posada De Los Portales, Tomelloso, Cuidad Real), SPAIN. (Closed). For more information, click on the following links:-
http://www.tomelloso.es/exposiciones-posada/12068-exposicion-de-maryanne-wick-en-posada-de-los-portales.
https://lavozdetomelloso.com/14359/maryanne_wick_muestra_humanidad..
https://www.lanzadigital.com/provincia/valdepenas/the-iberians-una-exposicion-pictorica-basada-en-los-restos-arqueologicos-del-cerro-de-las-cabezas-de-valdepenas/
2018
RESIDENT ARTIST (2018 and 2019), Museo Municipal de Valdepenas (Ciudad Real), SPAIN.
INVITED ARTIST TALK, Agrupacion fotografica Albores, Valdepenas (Ciudad Real), SPAIN.
2017
'STILL LIFE WITH CANNON BALL' makes an appearance in the BBC Production 'Top of the Lake: China Girl' by Director Jane Campion. (Refer to Press page)
INVITED GROUP EXHIBITION - 'DISSOLVE, Inspiration by Korea', Korean Cultural Centre Australia, SYDNEY.
2016
'ANGELIC', Solo Exhibition, Berrima Art Space, Berrima, NSW, AUSTRALIA..
FINALIST in the 2016 Doug Moran National Portrait Prize for 'Moon Bird', Juniper Hall, SYDNEY.
WINNER of the 2015 Korea-Australia Arts Foundation Prize, SYDNEY, for 'Still Life After 'The Owl and the Pussycat'.
Read More